Responsible Care is a Voluntary Initiative with company's commitment to improve all aspects of Environment, Health and Safety and to communicate with the public about activities and achievement to ensure transparency on the following five considerations.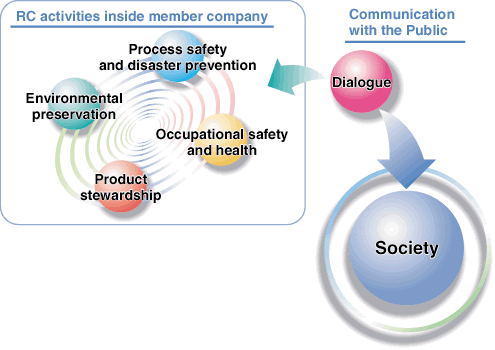 RC is a set of voluntary activities based on a public commitment by companies engaged in the manufacture or handling of chemical substances.
RC covers all aspects of performance related to the manufacture and handling of chemical substances.
Environmental preservation (Protecting human health and preserving the natural environment)
Operational safety and disaster prevention  (Preventing disasters at facilities and minimizing damage in case of disaster)
Occupational safety and health (Protecting the safety and health of workers)
Product stewardship (Providing information relating to the properties and handling procedures of chemical products to protect the safety and health of all people handling the products and the environment)
RC requires companies to publicize their performance and maintain dialogue with the public; the approach aims to promote communications with the public and foster a better understanding of the role of companies that manufacture and handle chemical substances.
RC is a set of activities aimed at preserving the environment and ensuring safety and health in all stages of chemical substance life cycles from development and manufacturing to distribution, use, final consumption, and disposal. (product stewardship)